Having a gorgeous 'garden view' from indoors can entirely change the feeling of a room. While we might dream of gazing out to a grand vista or a long sweep of garden, in reality, most of us are trying to do the best we can within the constraints of our existing plots, and within realistic budgets. Some views in your home may be favourites and others less so.
Whether you're starting to plan a garden layout from scratch or working to improve an existing scheme, consider the following design moves that aim to make the most of views from inside the house.
1.  Take stock of existing views
Start of by noting current sight-lines from windows and glazed doors. What 'garden view' do you look out onto from your most-used rooms of the property? Are there areas that could benefit from more privacy, or are any views obscured by overgrown plants that could use pruning? Could any windows be enlarged (if it's in your budget) to open up views? Or is it possible to install glazed bifold doors or French windows?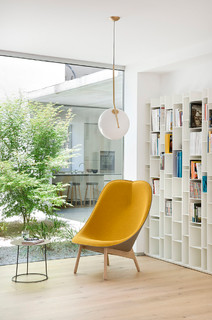 2.  Think of windows as picture frames
Take some time to think about what you'd like to see inside each frame versus what you currently see? Look out of one of your home's windows and take note of where your eyes comfortably rests.
Does it rest upon something you find attractive, such as a well-placed pots or an eye-catching plant, or does your 'garden view' go straight to a rubbish bin that could use some screening? Note which views could be improved, and how, to create an action plan.
Take a look at some of our own designs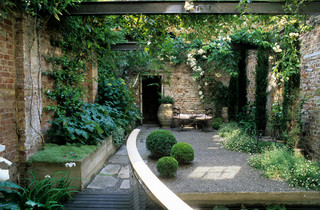 3.  Consider the foreground and background
Imagine yourself looking through the trained eyes of an artist, consider how might think about the composition of a painting, consider the overall composition of your window 'garden view'. Separate the elements close to the viewer from those further back in the space.For close elements, it's all about the details. You could group a cluster of small pots or a small fountain just outside a window, or frame the foreground of a garden view with a flowering vine planted nearby.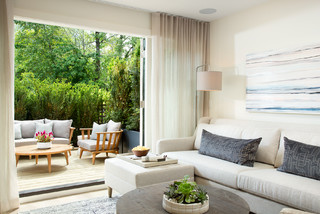 4.  Boost privacy
Chances are that at least some of your windows offer less-than-ideal 'garden views', perhaps of a busy street or a neighbour's living room. In these cases, you'll probably want to selectively screen and redirect the eye.
Adding a hedge or placing potted plants around a deck can help screen views where needed. Consider varying the heights of hedges to open or block different views.